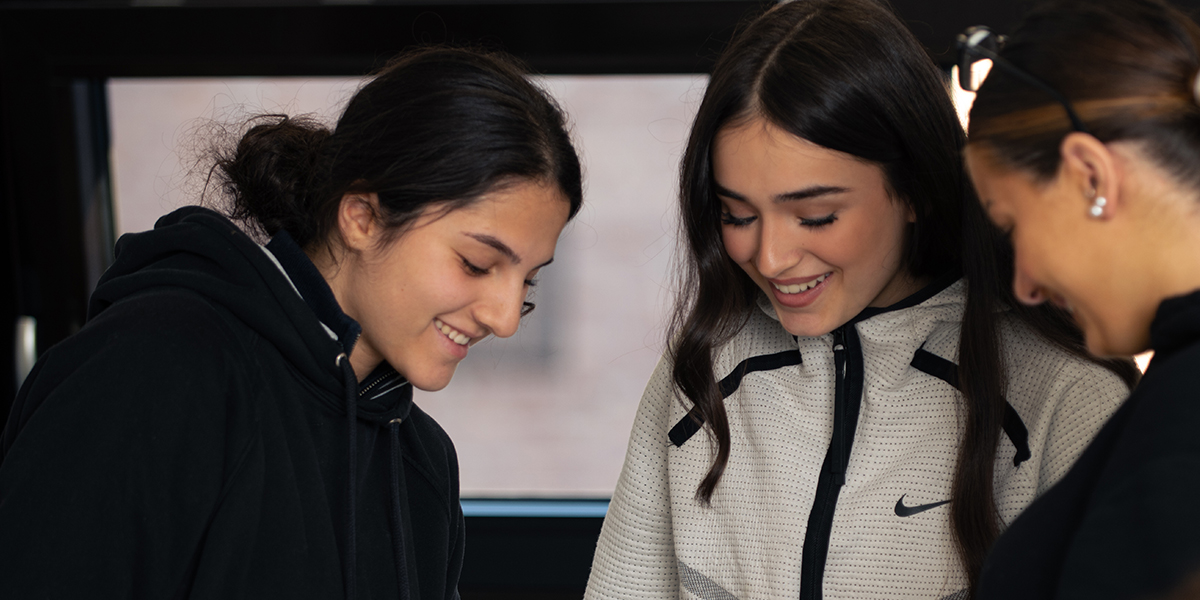 Team and Project Work
Team and project work is an important part of learning at Mentora Gymnasium. Here, students work together in groups to research, analyze, and work out solutions to a specific topic or problem. Through the project work, the students acquire valuable skills such as the ability to work in a team, self-organization, independence, and critical thinking. They learn to recognize their strengths and weaknesses and to use them in a targeted manner in order to achieve a common goal.
This approach enables the students to apply and expand their knowledge in various areas. They can work independently and creatively and contribute their own ideas and solutions. Promoting teams and projects not only increases the students' motivation but also their interest in challenges in the learning process and their environmental research. The opportunity to work on or help shape a topic of your own choosing creates a deeper connection to the problem in the subject area. As a result, the students are more willing to deal with it intensively and develop a more sustainable motivation to learn.
At Mentora Gymnasium, team and project work specifically prepares students for the requirements of the complex working world of the future. This form of learning not only enriches the school experience but also promotes the development of independent and creative personalities. The practical application of knowledge in team projects not only strengthens technical skills but also trains important skills such as critical thinking, collaboration, and problem-solving skills. This lays a solid foundation for their future professional development in an ever-changing world of work.
Cross-curricular themes - interdisciplinary learning at Mentora Gymnasium
Interdisciplinary projects have many positive aspects. On the one hand, they promote interdisciplinary cooperation and enable the students to look at complex relationships and problems from different perspectives. In this way, creative solutions are found, and interdisciplinary thinking and the development of social skills, such as teamwork and communication, are encouraged.
In addition, the practical application of the acquired knowledge can lead to a deeper understanding and a lasting anchoring in the memory. Students have the opportunity to discover and develop their own strengths and interests by applying and expanding their knowledge and skills in different contexts.
In addition, interdisciplinary projects can help to increase the motivation and commitment of the students, as they are actively involved in the learning process and can make a visible contribution to the project. The projects also provide an opportunity to tackle topics and problems that often cannot be covered in regular classes, thus stimulating the student's interest and curiosity.
Innovative teaching model at the Mentora Gymnasium
Regular interdisciplinary team and project work at the Mentora Gymnasium plays an innovative role by not only replacing conventional student internships but also placing a strong focus on interdisciplinary learning and collaboration with renowned research institutions and universities. This groundbreaking approach enables students to not only gain deeper insight into their chosen field but also to understand and apply the connections between different disciplines. It not only offers students insights into their subject areas but also provides them with tools for their further studies at colleges and universities around the world.
The close collaboration with research institutions and universities not only gives students practical insights into current research topics but also the opportunity to take part in real projects. This not only develops their specialist knowledge but also their ability to apply theoretical knowledge to complex real-world challenges. At the same time, they develop collaborative skills and gain valuable insights into how the research world works.
The switch to this innovative teaching model underlines Mentora Gymnasium's proactive focus on practical and future-oriented education that optimally prepares students for the demands of the constantly evolving professional world. Our scientific cooperation partners include:
Faculty of Chemistry Didactics at the University of Osnabrück in collaboration with the Siemens Foundation (projects in the field of chemistry that contribute to sustainable social development)
Anhalt University of Applied Sciences (Mathematics, Computer Science, Natural Sciences and Technology)
Berlin International University of Applied Sciences (art, design, and architecture).
Pictures from the Project Week at Mentora Gymnasium