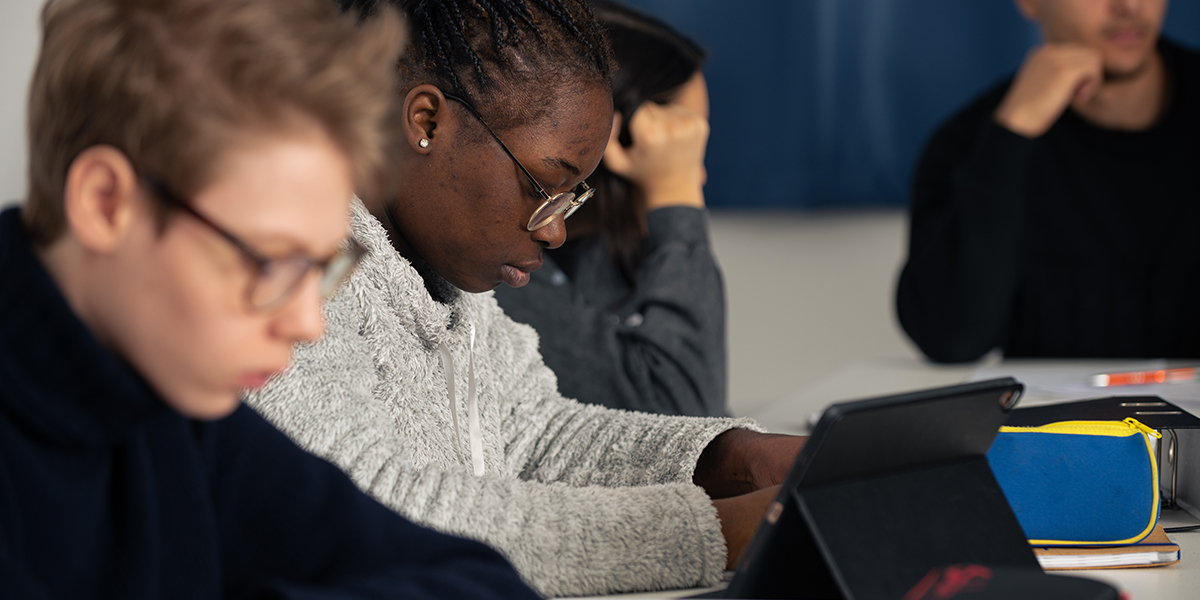 Subject Overview Upper Secondary (Sekundarstufe II)
In German "Gymnasien" the introductory phase for upper secondary takes place in the 10th grade. In the introductory phase, subjects are taught in a class groups according to the current requirements stipulated by the Berlin school authorities.
The introductory phase ends with the secondary school leaving certificate (MSA) and at the same time forms the conclusion of secondary level I. This is followed by the qualification phase, which comprises four semesters of grades 11 and 12.
There is no transition within the qualification phase. The overall grade for the higher education entrance qualification (Abitur) comprises the grades achieved in the four semesters and the result from the Abitur examination.
Lessons in upper secondary level
Authorisation to attend the qualification phase is acquired by moving to grade 11. At this level, pupils are no longer in classes nor have a class teacher, but are assigned to a tutor group. Generally, an advanced course teacher will be assigned as tutor.
In the qualification phase, lessons are taught in basic and advanced courses for the duration of a semester
Zum Ende der 10. Klasse, wählen die Schüler*innen zwei Leistungskurse und eine Reihe von Grundkursen in den vier Kurshalbjahren. Unter den gewählten Kursen der Qualifikationsphase müssen sich alle verpflichtend zu belegenden Leistungskurse und Grundkurse befinden.
At the end of the grade 10, students choose two advanced courses and a series of basic courses in the four semesters. The courses selected for the qualification phase must include all compulsory advanced and basic courses.
The implementation of the course choices can only take place within the scope of the possibilities of our school.
| 1st semester of the course | 2nd semester of the course | 3rd semester of the course | 4th semester of the course |
| --- | --- | --- | --- |
Lessons in courses
2 advanced courses (five hours)
7 to 8 basic courses (three hours)
1 Physical education (two hours)
Subjects and fields of activity
German, English, Spanish, art, music
Field of studies I (linguistic-literary-artistic field of activity)
History, geography, political education, philosophy
Field of studies II (social science field of activity)
Math, biology, physics, chemistry, sports,

physical education

Field of studies III (mathematical-scientific-technical field of activity)
Compulsory Lessons
The compulsory elective lessons serve to strengthen subjects and areas of study as well as for teaching in interdisciplinary areas of responsibility. At our grammar school, the lessons from the compulsory elective lessons are held in the weekly project days.
Timetabling for basic courses
Basic courses are allocated three hours per week, physical education two hours and the foreign language that was started in the introductory phase (i.e. in grade 10) is allocated four hours a week.
In upper secondary, grades 11 and 12, courses totalling at least 66 lessons per week must be taken. Basic courses serve the basic education required to acquire the general university entrance qualification.
Field of Studies

I
4 semesters German
4 semester courses 1st or 2nd foreign language
2 semesters of music or art

Field of Studies

II
4 semesters of history, political science, geography or philosophy
If history is the examination subject: 2 semesters of political science course or 4 semesters of political science, geography and philosophy

Field of Studies

III
4 semesters mathematics
4 semesters of the course in one of the subjects physics, chemistry, biology (if 4 semesters of biology: then an additional 2 semesters of chemistry or physics

Physical Education

4 semester courses in sports practice
If sport is the 4th exam subject or 5th exam component: an additional 2 semesters of sport theory
Advanced courses
The advanced courses serve in particular to ensure the ability to study and enable students to acquire a deeper knowledge of the chosen subject. They allocated five hours per week.
All subjects that are offered as advanced courses can be taken as basic courses.
Mentora Gymnasium offers following advanced courses:
1. Advanced courses
2. Advanced courses
German
English
Spanish
Mathematics
Biology
Chemistry


Physics

Art
Music
History
Geography


Philosophy