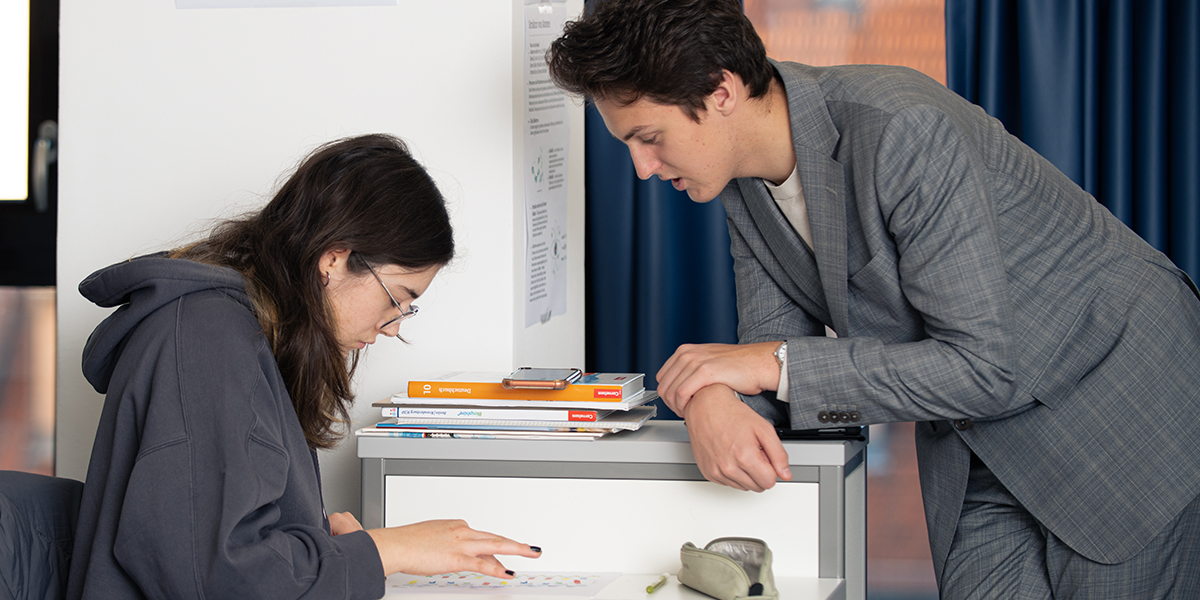 School Organization
The educational courses in the lower secondary level are continued in the upper secondary school. At "Gymnasien", students must pass their MSA in 10th grade and obtain a recommendation for upper secondary in order for them to enter the qualification phase. If pupils want to change from an ISS to a "Gymnasium" in the 11th grade, the receiving "Gymnasium" decides on the transfer to the qualification phase. This is the case when
Less than 4 points (grade 5) were achieved in a maximum of one subject or
Less than 4 points (grade 5) were achieved in a maximum of two subjects and both can be balanced. A maximum of one subject may have been assessed with 0 points (or grade 6).
Lower Secondary - grades 7 to 10
In Lower Secondary, pupils are offered a study-oriented school education to help prepare them for attending the upper level of the "Gymnasium". Classes are taught in groups and each class has a class teacher who is responsible for all matters affecting the class or individual students.
The introductory phase at the "Gymnasium" in grade 10
The Upper Secondary begins with the introductory phase, in which the content and the course system are prepared. There is no classic introductory phase at the "Gymnasium", but the 10th grade serves both as the end of Lower Secondary and as a replacement for the introductory phase.
Upper Secondary School - grades 11 to 12
The introductory phase is followed by the so-called two-year qualification phase, which concludes with the Abitur. The achievements and grades achieved here are included in the Abitur grade.
Block Lessons
The following lesson times have been in effect since the second half of the 2022-2023 school year for normal school operations at the Mentora Gymnasium from Monday to Friday for grades 7 to 12:
Lesson times in 90 minute blocks

I. Block

08:15-09:00

1st lesson

09:00-09:45

2nd lesson

09:45-10:00

Break (15 minutes)

II. Block

10:00-10:45

3rd lesson

10:45-11:30

4th lesson

11:30-12:20

Lunch break (50 minutes)

III. Block

12:20-13:06

5th lesson

13:05-13:50

6th lesson

13:50-14:00

Break (10 minutes)

IV. Block

14:00-14:45

7th lesson

14:45-15:30

8th lesson
Catalog of Criteria for Good Learning Conditions and Effective Teaching at the Mentora Gymnasium
In order to organize lessons in such a way that the students understand the goals of the lesson, there are as few disruptions as possible, everyone is involved in the lesson and the lesson time is thus used effectively, class leadership/classroom management is an important prerequisite.
Good Classroom Management:
Helps to achieve a productive working atmosphere and to avoid disruptions in class.
Requires clear communication from teachers and well-prepared lessons.
Is the introduction and justification of rules and routines – as noted in the school rules.
Requires consistent handling of disruptions.
Cafeteria
Lunch takes place in the shared cafeteria of the Mentora Gymnasium and the Berlin International University of Applied Sciences. There is a daily changing menu for lunch (also vegetarian and vegan). The food is delivered fresh every day or prepared by the caterer. Cold and warm drinks, snacks, sandwiches, salads, soups, fruit, and much more are offered at reasonable prices. Food that you have brought with you can also be warmed up in two microwave ovens.