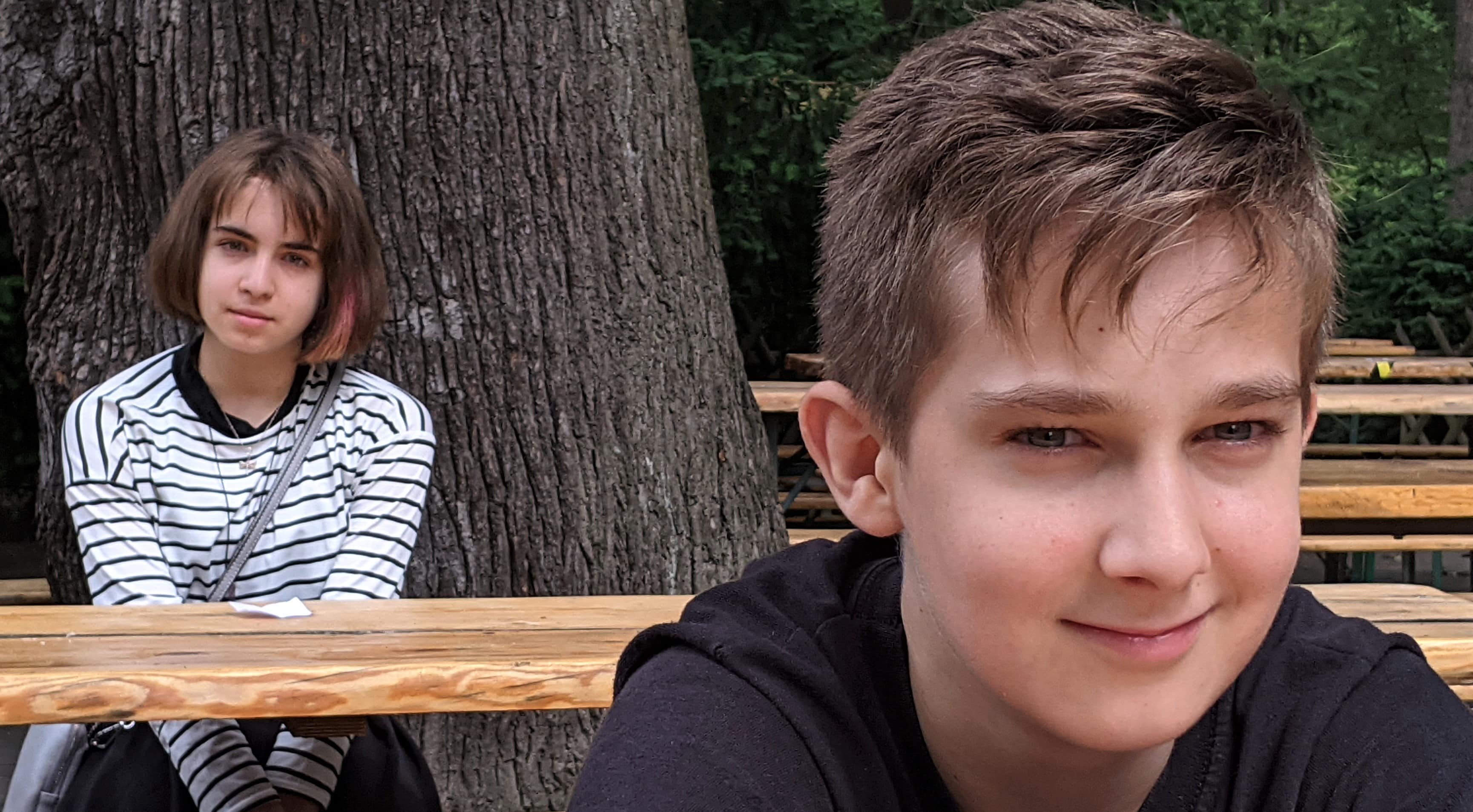 School Programme
We are an independent secondary school in the Berlin district of Charlottenburg-Wilmersdorf. The middle school (secondary level I) comprises years 7 to 10 and the upper school (secondary level II) comprises years 11 and 12. The upper school provides an in-depth general basic education and education in individually determined areas of focus. It builds on the work of secondary level I and is characterised by the unity of general education, academic preparation and study-related learning.
Our school focuses on the fine arts and STEM (STEAM) as well as an international orientation. We see our school program as an opportunity to prepare young people for the requirements and challenges of a diverse, complex, globalised, digitised and changing society. The challenge of our present is the world that growing generations will live in and we see it as our responsibility to prepare them for the diverse tasks of tomorrow. We focus on skills such as adaptability, critical thinking, communication and interdisciplinarity.
Health, demographic change and well-being; Safe, clean and efficient energy; Climate protection, environment, resource efficiency and raw materials; Intelligent, environmentally friendly and integrated transport are challenges that can be researched and solved through the subject areas of mathematics, computer science, natural sciences and technology.
We are convinced that the biggest issues of the 21st century require a sound scientific education from adolescents now more than ever. The education pupils receive at our school enables them to recognise, understand, explain and critically evaluate scientific phenomena and technical problems in everyday life and to draw conclusions for their own actions.
The integration of the fine arts into STEM subjects motivates students to engage creatively in STEM-related activities. Involving the fine arts makes it possible to present STEM concepts in an innovative and visual way, to express one's own thoughts on science and technology through artistic means of expression, and to illustrate concrete ideas through drawings, the production of models or graphics.
STEM & STEAM
Change processes shape our society at a pace that our world has never experienced before. Therefore, anyone who wants to actively shape the social change of tomorrow must already recognise today what is or will be about. We are therefore convinced that the best preparation for this participation is a basic understanding of scientific, technical and social contexts as well as an awareness of the great importance of STEM topics for our society. The STEAM subjects of mathematics, physics, chemistry, biology, computer science and fine arts are therefore an integral part of the timetable at our high school and are taught more in-depth in our Project Days.
In modern specialist rooms, we strengthen the experimental and independent work of our students. In this way, we not only promote interest in and enjoyment of the STEAM subjects but also the approach to mathematical and scientific phenomena and questions and their artistic representation. STEAM-based education, therefore, aims to address everyday problems with innovation, creative and critical thinking, and effective communication. The fine arts are subjective, intuitive, unique and emotional, while the STEM subject areas are objective, repeatable, logical and analytical. Visual arts and natural sciences are two areas of education that complement each other.
Girls and STEM
The social environment and the upbringing in the personal environment establish and strengthen role stereotypes, which later also influence the career choices of young girls and boys. For years, figures have shown that either women or men are in the clear majority in selected occupations, which is why one then speaks of women's or men's occupations. In concrete terms, this means that the proportion of men in technical occupations and the proportion of women in service occupations is higher.
In order to work against this trend and to get more girls interested in STEM, we strive to use our school program to help change the social framework. Many companies, research institutions and universities are highly motivated in getting young women interested in their STEM fields. They carry out projects and measures to win girls and young women over. These include, for example, "Come on, do STEM" and "Girls' Day", in which we take part with our students. This work is intended to help our school structurally break down traditional role models and gender-specific attributions of occupations and activities.
International Orientation
The beginning of the 21st century is characterised by profound and rapid social changes and challenges that can only be understood in their global context. In addition, the internationalisation of the education and labour market brought forth the need for an intercultural skill to act as a key qualification in order to appreciate the diversity of cultures and recognize the differences in languages, traditions and religions - but also to analyse and understand fundamental questions of social development with a global framework. International orientation therefore our open and multifaceted concept of contemporary general education.
The international orientation in our school program emphasises the unity and interdependence of human society, the development of self-confidence and the appreciation of cultural diversity. It is our answer to the requirements of the sustainable development of the world.
At the secondary level II, the basic course in social sciences offers e.g. the study of social and political phenomena - at local, state, national and international levels. As a result, our students gain an understanding of the institutions, practices and relationships that make up the social life in our society as well as in international contexts.